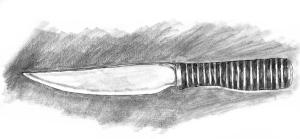 The decades of the 1950's and 1960's were dominated by the ubiquitous entertainment known as the Western. Some of the great classic Westerns were made during this fertile period right after World War II up to the Cold war era. But it was the fledgling medium of television that really showcased the western genre. Back then there were 3 channels on TV and they signed on in the morning and off late at night. No 500-plus channels of around-the-clock entertainment. Daytime was reserved for news and soap operas, and evenings for news and prime time entertainment shows.

In the year 1959 there were 26 western shows on prime time TV. A partial list includes such classics as Gunsmoke, The Lone Ranger, The Rifleman, Wanted: Dead or Alive, Have Gun-Will Travel, Bonanza, The Virginian, Wagon Train, The Big Valley, Maverick, The High Chaparral, The Gene Autry Show, Sugarfoot, Cheyenne, and Rawhide, the show that introduced Clint Eastwood to the world.

Growing up as a young boy on the Iowa prairies I was much influenced by all of this western mayhem that came my way via the big glowing box in our living room. In my spare time I was a rootin' tootin' cowboy, a mean gunslinger, an Indian fighter, and, often as not, the whole Indian tribe. Yes sir, I galloped, shot, fought, stabbed, and stampeded across a wide swath of Iowa sod.

My glee in my chosen profession (at least that is how I saw it) of being a full-time Westerner was only stoked by my discovering a couple of facts about my family history. First, it was rumored that the farm where we lived was built on an Indian burial site. I could not prove that, but it was a normal and frequent occurrence for us to pick up stone implements in the field just east of the house, which lends some credence to the story. Second, my great grandparents were original settlers of southern Iowa, homesteading on 80 acres miles away from any town or settlement.

Great Grandpa Gray came to Iowa, and the newly decommissioned Iowa Indian Territories, with his family some years after the Civil War where he homesteaded just south of the Old Mormon Trail (now highway 34) on 80 acres, at $2 an acre. Grandpa Fin (Alvin) Gray was born on the family homestead in 1883. As a boy I still recall some of the older men talking of how their fathers were impressed with the bravery of these old settlers living so far away from any town. In truth, these hardy families had little to fear from marauding Indians, as the Sac and Fox had by then relocated to Indian Territory in Oklahoma, the mighty Santee (Sioux) had fled to the west in 1862, and the Kansas and Pawnee had long since moved west across the Missouri river.

No, the real dangers were much more prosaic, and came from things like disease, violent weather, accidents, and the like. Ten, twelve, twenty miles doesn't seem like much today, but back then for those early farmers, it was a day to and from civilization. There were no convenience stores on the corner for groceries, and travel was by foot, horse, or wagon. A doctor, replenishing supplies, or even the law for that matter was a good ways away. Creston was merely a railhead in 1868, Lenox would not be a town until 1874, Corning in 1883. The closest real town was Bedford, originally called Grove, a small community with a post office that began in 1855. Families had to be self-sufficient, or move back to a town.

During my childhood I was very privileged to be able to spend much time with my grandparents. I loved spending days, even weeks at a time on their farm north of Lenox. Grandpa Gray was a great man, a good farmer, and known around the state of Iowa as a famous rough-and-tumble wrestler from back in the early 1900s. His best friend and wrestling partner was Mr. Ed Briles of Corning, father of the future State Senator Briles.

My dad farmed Grandpa's land by then, so as I grew enough to do to farm work I spent time there for different reasons than play. For as long as I could remember, and certainly longer than even that, when we would come inside for lunch or dinner the yard just outside the back steps was a space for clean-up. There was always a big wash pan and soap next to the hand-pump. Stuck in the ground was an old knife with a black handle and rusty blade. Back in some lost decade the point had been broken off leaving a jagged ending. For all the years I had been coming to the farm I never gave it much thought, it was just there to be used as a tool. We used that old knife to scrape the mud from our boots before we were allowed to step into Grandma's spotless kitchen. Once we finished that task it was shoved back into the ground, where for all I knew, it had grown there like King Arthur's Sword in the Stone. It was just always there.

In 1970 Grandma and Grandpa celebrated their 50th wedding anniversary and the installation of an indoor bathroom on the old farmstead. Grandpa was 87 that year and starting to show signs of aging. Two years before, when he was 85, he was shingling the house in a windstorm and fell off the roof onto his head. This started the problems and a week after celebrating his 50th he had a stroke and passed.

Mom and Dad bought the farm and Grandma was set to move into Lenox. During the move I just happened to pick up the old knife and asked Grandma about it. "Oh, that old thing, your great grandfather Gray carried that when the family homesteaded here in the 1800s." "Really? Can I have it?" "Of course, take it, but I have no idea why you would want that old thing."

Well, she was right of course, it was not much. What it was to me was a direct connection to my families Western past. I took it home and kept it in my room. Several years passed and I was now in college in Des Moines. The old knife was one of the few things that went with me to my new life. I was stocking shelves at night at a grocery chain and happened to have a conversation with our produce manger about old guns and knife making.

This was a period of time in America when the art of shooting muzzle-loading guns was making a resurgence. The guns and all their accruements, powder horns, knives, etc, were popular in the shooting community. It turns out that Don, our produce guy, made hunting knives. I mentioned the old knife and he asked me if he could clean it up for me. Sure.

When Great Grandpa's old knife was placed back into my hands I could not believe it was the same one. The "black" handle turned out to be the big surprise. It consisted of alternating leather and brass rings. Polished up, it is a thing of beauty. Since the blade was broken off square, Don honed it down to a nice pointed blade that shines in the light. It is sharp, and has acquired a new functionality after these many generations of being broken and serving as a boot scraper.

In my home I have a neat little room that holds my collection of antique arms and various accruements acquired over many years. Hanging on the wall is a frame containing family memorabilia. Inside the frame are many old coins of decorative value, and several family photographs. One of the photos is of my great grandparents in middle age, she with a severe black dress and frilly white collar, he sporting a full beard and a receding hairline. In another photo are my grandparents holding my mother at around 6 months of age. My grandpa looks like his father, hairline and all. A third photo shows my grandparents in the same identical pose but in this shot they are holding me, at 6 months of age. My connection to my past is palpable.

Over the years Great Grandpa's old knife has maintained a place of honor in my collection. Years ago I hung it together with an antique .44 pistol, replete with brass cartridges. The items are wired onto an old barn board. The board was cut from one of our ancient corncribs that I helped dismantle in 1977. Just glancing at the primitive sculpture provides me a physical and emotional link between my childhood, my Grandpa Fin, all the way back to Great Grandpa Gray, and the old homestead out on the virgin prairie of southern Iowa.